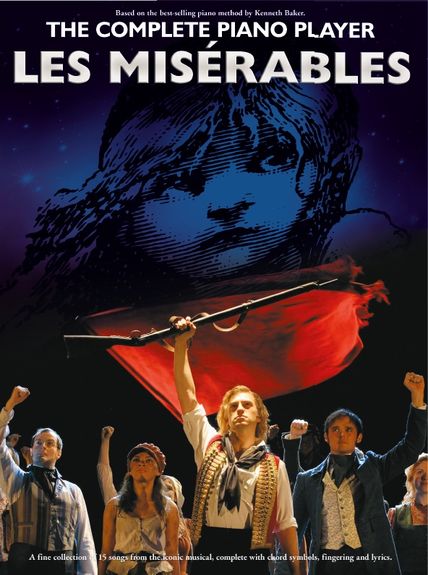 Complete Piano Player: Les Misérables
The Complete Piano Player: Les Misérables includes 15 song sele
The Complete Piano Player: Les Misérables includes 15 song selections from the film adaptation of the musical, Les Misérables by Boublil and Schönberg.
Included are the easy fingering and chord arrangements familiar from the Complete Piano Player series that make learning effortless, putting the music of one of the best-loved musicals of all time at your fingertips. Featuring the rousing Do You Hear The People Sing? and the sublimely beautiful I Dreamed A Dream, all of the pieces included here are instantly recognisable and a joy to play. For the full list of songs included, please see below.
The Complete Piano Player has been an effective tutorial to many beginners for a number of years, originally by author Kenneth Baker. This Les Misérables songbook has been expertly arranged by Derek Jones to follow this best-selling style, with helpful fingering as well as lyrics and chord symbols.
So whether you have worked through the Complete Piano Player series, or you just want to add these fantastic songs to your repertoire, our Les Misérables sheet music is the best way to get playing the songs from this timeless musical.
Innehåll:
A Heart Full Of Love [Schonberg, Claude-Michel]
A Little Fall Of Rain [Schonberg, Claude-Michel]
At The End Of The Day [Schonberg, Claude-Michel]
Bring Him Home [Schonberg, Claude-Michel]
Castle On A Cloud [Schonberg, Claude-Michel]
Do You Hear The People Sing? [Schonberg, Claude-Michel]
Drink With Me (To Days Gone By) [Schonberg, Claude-Michel]
Empty Chairs At Empty Tables [Schonberg, Claude-Michel]
I Dreamed A Dream [Schonberg, Claude-Michel]
Look Down (Gavroche) [Schonberg, Claude-Michel]
Master Of The House [Schonberg, Claude-Michel]
On My Own [Schonberg, Claude-michel]
Stars [Schonberg, Claude-Michel]
Suddenly [Schonberg, Claude-Michel]
Who Am I? [Schonberg, Claude-Michel]
Artikelnummer
187579

EAN/ISBN/ISMN
9781783054497

Instrument
Pianosolo

Instrumentgrupp
Piano & Keyboard

ISBN
9781783054497

Produkttyp
Notböcker & Sångböcker

Serie
The Complete Piano Player