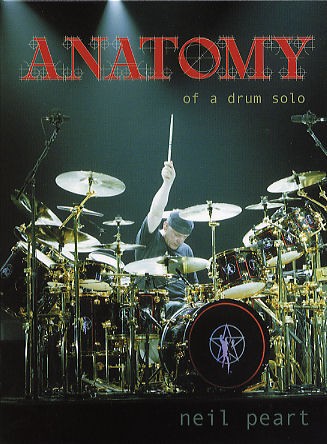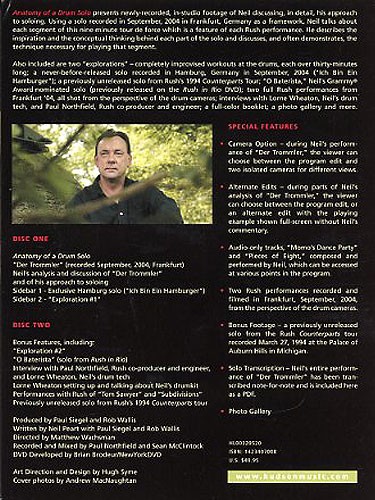 Neil Peart: Anatomy Of A Drum Solo
9781423407003 - Hudson Music
Anatomy Of A Drum Solo
presents newly-recorded in-studio footage of Rush's celebrated drum star Neil Peart discussing his approach to soloing. Using a solo recorded in Frankfurt 2004 as a framework, Neil talks about each segment of this nine-minute tour-de-force which has become a famed feature of the Rush live experience. Techniques are explained in detail, as Peart guides you through the thought processes and inspirations that combine to form the solo.
Also included are two 'explorations' - completely improvised workouts at the drums, each over 30 minutes long, a never-before released solo recorded in Hamburg 2004, a previously unreleased solo from the 1994
Counterparts
tour, Neil's Grammy-nominated solo, and two full Rush performances from 2004, all shot from the drum-camera perspective.
This remarkable collection of performance footage and interviews is complimented by a host of special DVD features including:
Camera Option - during Neil's performance of Der Trommler, the viewer can choose several different camera perspectives
Alternate edits - choose between the program edit and an alternate version showing examples in full screen without commentary
Audio-only tracks Momo's Dance Party and Pieces Of Eight
A PDF transcription of Neil's entire performance of Der Trommler
Photo Gallery
Interviews with Lorne Wheaton - Neil's drum tech.
Innehåll
Der Trommler
Ich Bin Ein Hamburger
Momo's Dance Party
O Baterista
Pieces Of Eight
Subdivisions
Tom Sawyer
Artikelnummer
144733

EAN/ISBN/ISMN
9781423407003

Instrument
Trummor

Instrumentgrupp
Slagverk

ISBN
9781423407003

Produkttyp
Instruktions-DVD & CD