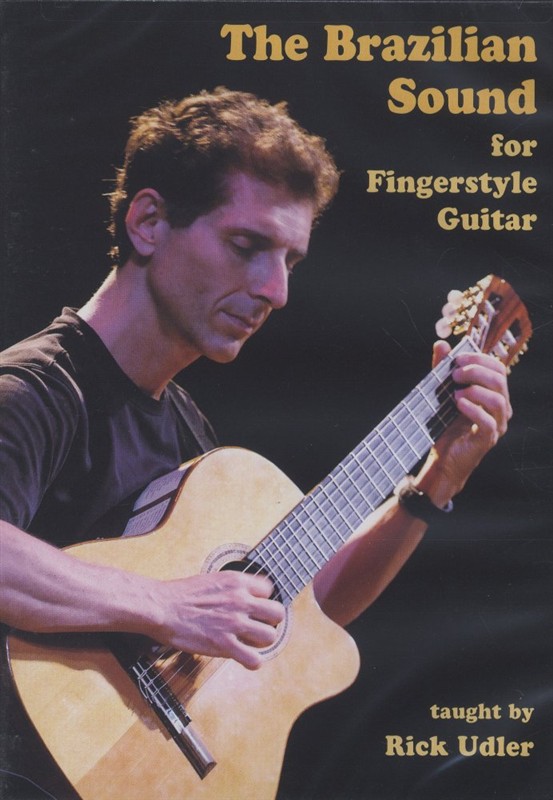 Rick Udler: The Brazilian Sound for Fingerstyle Guitar
164168 - Stefan Grossman's Guitar Workshop
Brazil has produced some of the most vibrant and exciting guitar music ..
Brazil has produced some of the most vibrant and exciting guitar music in the instrument's history. In this lesson, Rick Udler discusses and demonstrates styles, techniques, and rhythms of Brazil's great players. This is a unique opportunity for guitarists to delve into the beautiful sounds of this musical land.
Rick begins by going over chords that are commonly used by Brazilian guitarists. He then teaches the accompaniment to singer/songwriter Gilberto Gil's beautiful composition, A Paz", to illustrate the use of chords with open strings. A step-by-step analysis of Bossa Nova accompaniment in the João Gilberto style follows along with suggestions on how to develop a better feel for this sophisticated, syncopated groove.
The solo guitar rendition of the Antonio Carlos Jobim/Newton Mendonça classic "One Note Samba" will be a welcome addition to many players repertoires with it's rhythmic drive and rich harmony. Samba rhythms are then explored with examples that are sure to enhance one's groove and arsenal of techniques. Rick also gives examples of inner string movement which will prove invaluable to those looking for ways to generate more excitement and authenticity in their comping. A sambified version of "Happy Birthday" demonstrates how to apply these techniques to a familiar tune and make it sound fresh.And, to provide an even greater challenge for all players, Rick gives a detailed analysis of his tour de force solo guitar piece "Amigo Paulo", composed as an homage to his friend, guitar legend Paulinho Nogueira (1927-2003). This tune with it's choro influences incorporates many of the techniques Rick learned directly from the master and is sure to provide much musical food for thought for players who are looking for innovative new colours and textures to add to their playing."
Artikelnummer
164168

Instrument
Klassisk Gitarr

Instrumentgrupp
Gitarr & Bas

Produkttyp
Instruktions-DVD & CD